We Have
A Multi-Channel Approach

To Diversify Your Customer Acquisition

Our Paid Media team takes a multi-channel approach to diversify your customer acquisition source and scale budgets effectively. We help brands place ads where the best customers see them. Our digital media buying strategies take into account design, copywriting, budget planning and targeting.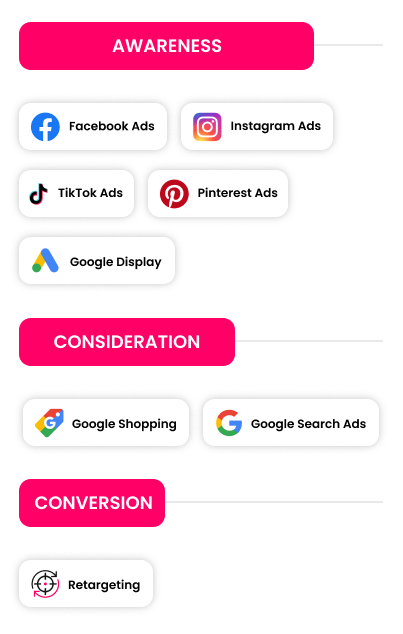 Lift in Incremental
Ads Revenue
Prioritize the opportunities

that drive incremental revenue

Fully Managed Campaigns
From concept and implementation to performance monitoring and daily optimizations, we take care of your advertising campaigns from begining to end.

Active Monitoring and Optimization
Always-on, active campaign monitoring to optimize advertising for best performance possible.

Pixel Implementation
Facebook pixel implementation to monitor and track advertising performance, audience development and retargeting opportunities.
Audience Development
Not only do we get to know your business, we get to know your customer by researching and defining the right customer segments to target, reach and grow.

Advertising Strategy
Develop Facebook and Instagram advertising strategies that aligns with your business and marketing goals.

Reporting
Get clear insights into advertising performance with actionable recommendations.
We Understand
Creative
We optimize existing assets and create new concepts using the latest platform-specific trends and direct response best practices, while leveraging real-time performance data to ensure the delivery of high-impact content.
We have an impressive track record with a diverse, client base, allowing us to streamline the content creation process based on proven formulas for success.
Our cross-channel synergy and dynamic feedback loop enables us to make strategic pivots and quick turnarounds of high-performing ads based on real-time performance data and channel-specific learnings.
Measure
Total Paid Performance
To make the right decisions on your Paid Media spend, it's important to have a robust reporting solution that can break down all your data into easily digestible numbers. Get clear insights into advertising performance with actionable recommendations.